By choosing Camp Oty'Okwa for your group, you are helping support Big Brothers Big Sisters of Central Ohio's youth mentoring programs, including Summer Camp at Camp Oty'Okwa.
LARGE GROUPS (More than 30 guests)
Camp Oty'Okwa has a variety of lodging options, and we will work with you to decide which accommodations best fit your group's needs.
Large groups (more than 30 guests) find Camp Oty'Okwa's Sebring Lodge and our Rustic Cabins the perfect accommodations during their overnight visits. Large groups are also invited to utilize many additional fine facilities at Camp. Please note that we offer special programs and prices for school groups. Click here to view more information about our Environmental Education program.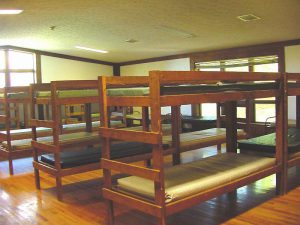 Lodging for groups of 30-128 is available at Sebring Lodge. The front of the Lodge faces the open field in the center of Camp with a view of the forest off the decks on the back side. Sebring Lodge has two levels with a total of four separate units that have 16 bunk beds and restroom with shower facilities. Each unit also has an adjoining deck on the edge of the woods.
Rustic Cabins
Rustic lodging for guests is available in 12 cabins that sleep 10-12 guests each in bunk beds, for a total of 134 campers. There are five heated cabins in Ivy Unit; five unheated cabins in Summit Unit and two unheated cabins in Alpine Unit. Each unit has a shower house with restroom facilities.
Please note that bedding, linens and toiletries are NOT provided.
Additional Facilities
The Rahal Activity Center, Tri-Village Rotary Barn, gorgeous Dining Lodge and covered Albert Shelter House with covered grill are all great meeting spaces for conferences, classes, activities and get-togethers. Use of all of these facilities is available during your large group stay at Camp Oty'Okwa.
In addition to meeting and dining space, your group will have access to an open field, sand volleyball court, outdoor basketball court, and ceremonial fire ring. If you reserve them prior to your arrival, groups will have access to:
Indoor Basketball Court
Climbing Wall
Arts and Crafts Room
Nature Center
For information about meals, optional activities and local attractions that your group might enjoy during your stay, please click here.
For more information or to make a reservation, please call Camp Oty'Okwa at 740-385-5279.