Rick Perkins – Camp Director 
Rick started at camp in 2017 after a full career with the National Park Service working at multiple National Park Service sites including Hopewell Culture NHP, Isle Royale National Park and Glacier Bay National Park in Alaska. Rick has been a resident of Hocking County for the past 17 years attended Hocking College and Ohio University where he obtained degrees in Outdoor Education and Field Biology. Rick and his wife Christina raise goats, chickens, pigs and "rescue" horses.  In addition to his National Park Service career Rick spent over four years directing a residential Marine Biology field station on Andros Island Bahamas, and worked at Glen Helen Outdoor Education Center as a resident Naturalist.
Rick serves on numerous non-profit boards, including International Field Studies, Arc of Appalachia and the Athens Conservancy. Rick is married and has two girls that love coming to camp. In addition to hiking, birding, and getting lost in the woods, you might see him cycling the hills around Hocking County.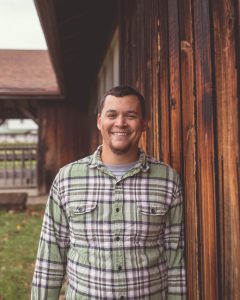 Matt Smith – Youth Camp Director 
Matt got his start at Camp Oty'Okwa as a very young camper.  Today Matt coordinates our BBBS youth programs.  He brings over 11 years of experience working with children and young adults to our programs.
Matt holds a Bachelor's degree from Ohio Dominican University.  He is also a licensed social worker.
Matt is a sports fan of football and hockey and can often be found listening to a Blue Jackets or Buckeyes game.
 Emily Kridel – Environmental Education Director
Emily is a naturalist with a passion for connecting kids to nature. She is a graduate of Otterbein University and previously worked and trained in environmental education at Stratford Ecological Center and Glen Helen Outdoor Education Center. Emily is excited to be able to work with the diverse populations that camp serves and give every child the opportunity to find their place in the ecosystem. She believes it hasn't been a full day unless everyone is a little dirty!
Betty Garrett – Operations
Betty is a native of the Hocking Hills area.  Betty is the backbone of our hospitality here at Camp.  She has spent over 20 years with Oty'Okwa, working to improve or service to you during your stay.
In her spare time, Betty enjoys listening to Blake Shelton, baking, and spending time at home with her family.
Jennifer Somerville – Administrator 
jsomerville@bbbscentralohio.org
A environmental communication scholar, Jen worked with the Ohio Department of Natural Resources for ten years before moving to Southeast Ohio to finish her degree. In addition to teaching for the past 10 years, Jen enjoys everything related to the outdoors including kayaking, hiking, and gardening. She is excited to begin a new adventure with Camp Oty' Okwa.