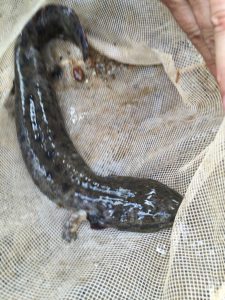 Oty'Okwa's spring environmental education season has been in full swing for more than a month now, and our campers have been making some amazing discoveries around the Hocking Hills.
One student from Clinton Elementary was able to catch a live mudpuppy (a large salamander) in Pine Creek during a stream class. This find was particularly special for camp, because no mudpuppy findings have been reported in Hocking County since 1989.
Mudpuppies mature when they are roughly 8-inches and 5 years old. They are nocturnal and prefer deep, muddy water, so getting to see one out in the open is a great experience for any camper. This mudpuppy was close to 12-inches long and caught in a kick net. If you look just before the head, you will see the mudpuppy's distinctive external gills.
Campers from eleven different schools this season will get to explore, discover, and directly experience the wildlife and mysteries of the beautiful Hocking Hills.
Stay tuned to see what other amazing species we observe here at Camp Oty'Okwa!